Property:Cocoabean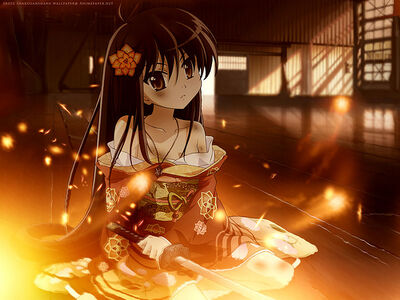 "Hisana-neesan!"
— Lauren
Lauren is Hisana Biermann-Rao's younger half sister. She is 12 years old and a full blooded Saiyan.
Personality
Edit
Appearance
Edit
She has a sword she always uses.
Lauren has a lot of potential, noted by Hisana.
"I am Lauren! *clings on Hisana* She's my half sister."
— Lauren
"I love Ocean-san!"
— Lauren talking about Frank Ocean
Super Saiyan - Reached at 8.
Saiyan Rage - Lauren creates 5 blue ki blasts and fires it at you. Her signature move.
Santa Doesn't Exist?! - Lauren folds her arms, kicks you and fires a Saiyan Rage.
Big Bang Attack: Lauren Edition - Lauren creates a blue Big Bang Attack with a purple streak in it.
BLEH - Lauren taunts you, then fires Saiyan Rages at you, finished by a mouth blast. More soon
Ad blocker interference detected!
Wikia is a free-to-use site that makes money from advertising. We have a modified experience for viewers using ad blockers

Wikia is not accessible if you've made further modifications. Remove the custom ad blocker rule(s) and the page will load as expected.